Game 26, Rangers 1, A's 3 (13-13)
By Jason Wojciechowski on April 30, 2011 at 4:30 PM
Trevor Cahill put eleven men on base in seven innings in this win, but, unlike Brandon McCarthy, managed to keep all of those baserunners from scoring. The A's garnered a slew of baserunners of their own against CJ Wilson through his seven innings, but got some well-timed hitting from Conor Jackson and Josh Willingham to combine with bad defense by the Rangers to push across their three scores.
There's not much of a narrative to tell for this game, especially after Cahill settled down from the second through seventh innings (three of his four walks came to load the bases in the first) -- he gave up some hits and got some outs, and the sequence of these events didn't work out for the Rangers.
Box & Notes
| Player | PA | TOB | wRAA | WPA |
| --- | --- | --- | --- | --- |
| Ellis (2B) | 4 | 0 | -1.024 | -.09 |
| Barton (1B) | 4 | 1 | -.312 | .01 |
| Jackson (RF) | 4 | 3 | 1.568 | .09 |
| Willingham (LF) | 4 | 2 | .704 | .03 |
| Suzuki (DH) | 4 | 1 | -.312 | .11 |
| DeJesus (RF) | 4 | 0 | -1.024 | -.08 |
| Kouzmanoff (3B) | 4 | 2 | .096 | .02 |
| Powell (C) | 4 | 2 | .248 | .01 |
| Pennington (SS) | 4 | 1 | -.312 | -.05 |
For all my talk yesterday about Bob Geren's solid lineup work, I'm not sure I can get behind Mark Ellis hitting leadoff, even against a lefty. I'd just have moved everyone up a notch: Barton first, Jackson second, Willingham third, etc.

Quibbliest quibble there ever was: it is a profound disrespect to Landon Powell to bat Kevin Kouzmanoff ahead of him.

Daric Barton hit a ball in the third that was ruled an error on center-fielder Julio Borbon, but it was a weird play. Barton hit a knee-high fastball on a hard line to center. Borbon misread it, took a step in, then charged back, but turned around at least once as the wind may have been pushing the hit all around. The final result was a leap a few feet shy of the warning track, with the ball popping out of Borbon's glove and falling on the track.

On the one hand, I'm sympathetic to the idea that this was an error: it was a horrible defensive play by Borbon from start to finish. On the other, my sense of official scoring over the years has been that it's the final result that matters, not the process. That is, routes don't concern the scorer -- the consideration is whether, at the site of the ball meeting the player, the fielder should have caught the ball. On those standards, this wasn't an error, because it was the kind of tough leaping grab on which errors are not typically assigned.

Barton's legitimate single, by contrast, was a soft fly to left-center.

Conor Jackson also benefited from Julio Borbon's largesse, hitting a liner to center off the end of his bat in the first inning. Borbon went back first, then tried to sprint in and make the catch. It quickly became obvious that the ball was going to drop, but Borbon failed to take the hint and tried a dive. Comically, the ball fell about 18 inches in front of him and then hopped over, allowing Jackson to reach second. I haven't seen a worse dive this year, and it's probably in the top ten in general.

Jackson's other hit, a double lined over the third baseman into the left-field corner in the fifth, was completely legitimate. His other time on base, though, was a hit-by-pitch on his back foot. The one out he made was a line drive smashed right at Ian Kinsler at second.

Add all this weirdness up, though, and noting that even had Borbon not dived, Jackson was going to have a single, and you get the Offensive Player of the Game.1

Josh Willingham is starting to strike me as a guess hitter. He seems to get locked up on fastballs that are very easily in the zone more often than any other A's hitter. This contributes to his high strikeout total, but it also of course contributes to destroying off-speed pitches in the outside corner for doubles into left-center, as he did in the fifth inning here.

Willingham should also be commended for his good, clean, aggressive slide in the seventh inning that helped Kinsler make a poor throw to first in an attempt to complete a double play. The ball got past Mitch Moreland at first and gave the A's their third run, as Daric Barton came home on the error.

Moreland is as much to blame as Kinsler on the play, by the way. Kurt Suzuki was running hard and the ball wasn't hit hard to short. The ball was going to be late, so Moreland has to come off the bag to block the ball rather than try a futile scoop.

Kevin Kouzmanoff had his first two-walk game as an Athletic, in his 167th contest. Impressive!

Kouzmanoff did make two thirds of a nice defensive play in the second on a weakly hit ball by Yorvit Torrealba, charging and barehanding, but his throw short-hopped Daric Barton, so I can't give Kouzmanoff full credit. Barton did scoop the ball on his full stretch to just get the Ranger catcher, who moves a lot faster than I thought he did.

Landon Powell made the best throw to second base I've ever seen (though it's probably tied with some other good throws I'm forgetting). A Cahill curve bounced in the sixth inning with Nelson Cruz on first. Cruz took off on first contact, it seemed, either hoping or thinking that the ball would get farther away from Powell than it did. Powell pounced on the ball in front of him and threw a bullet to second, in that perfect position where the shortstop just leaves his glove in the path of the runner's foot sliding into second. It was exactly like Kurt Suzuki's throw to get Michael Saunders in Game 21, except that ball went to third and was a good pitch toward the left side for him to throw on.

The weirdest defensive alignment of the night (the year?) came with Adrian Beltre up and two outs in the ninth against Brian Fuentes. The three A's outfielders each stationed themselves just a few feet from the warning track. Ray and Glen said they'd never seen outfielders play that deep, and I can't say that I have either (though obviously Ray and Glen have years on me). The alignment actually made the final play of the game somewhat exciting, as Beltre hit a medium pop to right center that DeJesus had to sprint to catch -- in a normal configuration, he could have jogged over and settled under it.
| Pitcher | Outs/TBF | Str/Pit | GB/BIP | K | UBB | HR |
| --- | --- | --- | --- | --- | --- | --- |
| Cahill | 21/30 | 62/100 | 12/22 | 4 | 4 | 0 |
| Balfour | 3/5 | 15/22 | 1/3 | 2 | 0 | 0 |
| Fuentes | 3/5 | 11/19 | 2/5 | 0 | 0 | 0 |
As you can see, I've decided to add a column to the pitching table to reflect another major skill that pitchers have that was not previously being reflected. I'm going to use my own counts on ground balls, so it's possible that there could be slight discrepancies every once in a while between my tally and the official count because of borderline issues regarding how to count certain low line drives and such.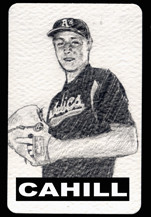 Credit: jpangan3
Cahill's first inning, which went K, BB, GB, BB, BB, GB, looks bad because of the three walks, and he was certainly missing the zone (i.e. I'm not bitching about squeezing here), but it wasn't a Blevins/Fuentes/Gonzalez/Ross kind of inning. His misses were just outside, just low, and the Rangers were spitting on a lot of pitches that Cahill often gets opposing hitters to swing at for weak grounders. Credit to the Rangers for that inning, though they weren't able to keep that performance up.

Grant Balfour vs. Nelson Cruz is destined to wind up with either a strikeout swinging on a fastball or a monster home run on that very same fastball. It worked out for the A's reliever this time.

Balfour also got a rarely seen "miss the target" strikeout on Mitch Moreland as Powell was set up outside. Balfour's fastball at the knees came right down the middle or maybe inside half, and was very clearly a strike, and also not a terrible pitch to swing at, especially with two strikes. Moreland, though, probably saw/felt Powell move to the outside, and was thus looking that way for the pitch, so when the ball came more in than he was expecting, locked up. I'd credit the umpire for the call, but the pitch was so clearly a strike that I just can't -- that's a call he has to make.

Brian Fuentes did give up two singles in his inning, but his ERA unfortunately suffers from the fact that it was a three-run save. Elvis Andrus took second on defensive indifference ahead of Michael Young's single, so Andrus may not have scored had the A's actually been attempting to hold him on.
---
Standings: (5) Crisp; (4) Barton, Ellis; (3) Jackson, Suzuki, Willingham; (2) Pennington; (1) DeJesus, Matsui. ↩