2011 Retrospective #1: Neil Wagner, RHP
By Jason Wojciechowski on October 2, 2011 at 2:15 PM
I tried this season retrospective thing last year, but never got past Eric Sogard. I'm trying again now. The A's used 26 pitchers and 22 position players this season. I'm going to burn off the four extra pitchers first, and then alternate pitchers and hitters until the end. There's no set schedule. I'm going in reverse order of total batters faced (pitchers) and plate appearances (hitters). Today we start at the very bottom with Neil Wagner.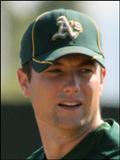 "Neil Wagner (13 March 1986 -- ) is a South African-born New Zealand cricketer for" ... wait. Not that one. The A's Neil Wagner is a New Years 1984 baby (27 this year) who made his big-league debut on August 30th in Cleveland, throwing a scoreless inning against the team that drafted him in the 21st round in 2005. Wagner, you will not be shocked to learn, is not a prospect. (Not once since he was drafted has Wagner received a write-up in a Baseball America book.) He came into the A's system in a trade for cash back in May.
Wagner's PITCHf/x data show a hard 95 mph fastball, a slider around 85-87, and a change. His pitch location charts indicate that his fastball stays up in the zone a bit, but it's not clear from his minor league numbers at Baseball Prospectus whether this has resulted in large numbers of fly-balls.
Despite all this stuff that adds up to "whatever," Wagner has never posted a below-average Fair Run Average in the minors. (Fair Run Average is Baseball Prospectus's core pitching value stat -- it tries to find a middle ground between simple runs allowed (which counts bullpen contributions and defense to give a distorted picture of how a pitcher performed) and DIPS-based estimators like FIP (which throw out important information like sequencing and the effect of different types of balls in play).) Using FRA+, which, like all plus-stats, measures how far above-average a performance was, Wagner never ended up worse than 11% above average.
Unfortunately, that changed when he got to the majors, as he managed a whopping 8.21 FRA, good for an FRA+ of 9. Yes, 9. As in 91% below average. In 24 batters faced, he whiffed four, gave free passes to four, and allowed one homer (FIP of 6.46) en route to seven runs allowed. That's not good!
It would also be an entirely silly way to evaluate Wagner's future with the team. Still, he's probably not better than a whole slew of players in front of him: Grant Balfour and Brian Fuentes are under contract for 2012; Andrew Bailey, Craig Breslow, Jerry Blevins, and Joey Devine are arbitration-eligible; Fautino De Los Santos, Jordan Norberto, Andrew Carignan, and Bruce Billings can be paid the minimum. That's before considering that the bullpen may need to be home to an extra starting pitcher or two, depending on how things go in the off-season with Rich Harden and Brandon McCarthy, and whether Dallas Braden is able to make a successful return from surgery.
Wagner, then, assuming he's even with the A's and on the 40-man next year, neither of which are locks, should probably count on spending a lot of time in Sacramento once again.