2011 Retrospective #10: Trystan Magnuson
By Jason Wojciechowski on January 2, 2012 at 1:55 PM
We have reached 2012 and also reached the double-digits on the retrospectives. Soon enough we'll be looking at players who were actually relevant to the 2011 season. Powered by Kasey Chambers's Little Bird ...
Trystan Stewart Gwyn Magnuson (!) is a right-handed pitcher who is very tall, pretty thin, and pitched in nine games in relief for the A's at the seasonal age of 26. (His birthday is June 5, so he's really half-and-half, just falling on the other side of the cutoff.) He wasn't very good, giving up eleven runs in 14 2/3 innings, though six of those runs were concentrated in one 11-1 loss to Minnesota in May. The component stats make your eyes glaze over: out of sixty-five batters, he struck out eleven and walked five. Baseball Prospectus has him as a fly-ball pitcher in recent years, though he'd exhibited solid grounder tendencies back in A-ball.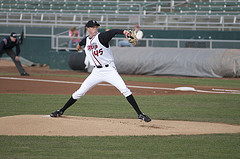 by Joel Dinda
Do you care yet? No, right? Yeah, he's not very good. He's just a pitcher. He hasn't started a game since 2008, in Class A, and even as a reliever, he didn't strike out enough batters to get anyone excited, just once (in AAA in 2011) cracking the one-per-inning barrier.
Per Texas Leaguers, Magnuson's slider drops about an inch less than the league-average right-hander's slider while having almost exactly average horizontal movement. He threw it for a strike (58%) a little less than average (63%), but beat the league average in whiffs (18% for Magnuson, 14% for the league) and saw the pitch consequently put in play less often (12% Magnuson, 18% league).
Magnuson's fastball also came in for strikes more often than average and got more whiffs than average, so, given this ~250 pitch sample of data that we have along with the knowledge of his prospect background (not top by any means, but not nobody either), and despite his underwhelming performance so far in his professional career, there's room for hope that he can be a cheap relief option for the next three years, pitching low-leverage innings and keeping games from getting out of hand.
Unfortunately (?) that hope will come for Blue Jays fans, as Magnuson was sent back to Toronto for The Almighty Dollar in November. This was likely a simple 40-man move, clearing space on the roster for the trades that Billy Beane knew would be coming. If he was getting back the kind of prospects he wanted for Andrew Bailey, Gio Gonzalez, Trevor Cahill[, Kurt Suzuki? Grant Balfour? Brian Fuentes?], he'd need space on the 40-man roster for them. Better to clear that space early than to be faced with designating people for assignment and being forced to trade them under the gun.