2011 Retrospective #12, Dallas Braden
By Jason Wojciechowski on January 11, 2012 at 7:05 PM
I was not expecting to get to Dallas Braden this soon. As you'll recall, I'm going in reverse order of plate appearances / batters faced, so this means that Braden had the eighth fewest batters faced on the A's in 2011, behind guys like Joey Devine and Graham Godfrey. I know he got injured, obviously, but I forgot just how early the injury came -- Braden managed three starts and eighteen innings before going down.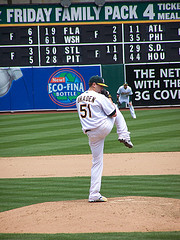 Image by Mark Terranova
As with all of these guys, quoting stats is pointless. It was eighteen innings. Here's what I will tell you: in 2009 and 2010 (136 2/3 IP, 192 2/3 IP, all in starts), Braden put up a 3.77 FIP despite unimpressive strikeout numbers. He kept the walks and homers down, though, the latter being either impressive or lucky, given his fly-ball numbers (Baseball Prospectus has him in the low 40% range for ground ball rates in the big leagues).
Reports have been that Braden's rehabilitation has gone swimmingly, but I think we all know better, from experience both in Oakland and elsewhere, to assume anything about recovery from injuries, especially for pitchers, especially for arm injuries, especially for shoulders.
The nice thing is that Braden won't have to be that good to justify his salary, which is the same base ($3.35M) as last year with up to $400k extra in incentives available if he pitches a full season's worth of starts. Pitching the way he did in 2009-10 will meet the standard of his paycheck easily and provide the A's with theoretical surplus to boot.
The thing about that salary, and I don't even want to go into this, but you knew it was coming, and the fact that Braden still has one more year of arbitration eligibility before free agency after 2013 and the fact that he's a pretty good pitcher raises the specter of the unthinkable: if he proves he's healthy, he could be dealt to a contender mid-year. The A's target year isn't 2012 and it probably isn't 2013, and every little penny in Lew Wolff's pocket will make him happier. A's fans will never forget the perfect game and we're the only ones who find Bradenia charming rather than obnoxious, so it may be time to steel ourselves for a painful departure.