2011 Retrospective #15, Eric Sogard
By Jason Wojciechowski on January 19, 2012 at 7:25 PM
Eric Sogard, appropriately enough, is the next subject of the retrospective series. Appropriately because Adam Rosales was the last position player covered, and Andy LaRoche will be the next, so we're stacking up all of our utility men in a row.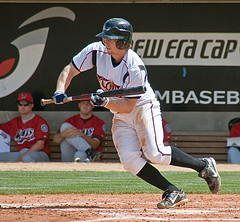 Image by SD Dirk
Sogard, who supposedly went to "Thunderbird High School" in Phoenix (this clearly cannot exist) and Arizona State before being drafted in the second round (!) by the Padres in 2007 and traded to the A's with Kevin Kouzmanoff for Aaron Cunningham and Scott Hairston, probably never had the power in his bat to be a big-time prospect, but if he could hang defensively, there was plenty to make him a solid, useful player. He hit for .308/.394/.453 in 2008 at Lake Elsinore (in the Cal League), a line that Clay Davenport translates to a very solid .266/.340/.380 performance. If Sogard could stick at shortstop, that's not so far behind what Derek Jeter did this year as basically a league-average player.
Sogard's performance at San Antonio looks less impressive, as his SLG fell to .400, but the translated line is nearly identical. His season and a half at Sacramento provided more of the same, and while his 70 big-league at-bats didn't come out happily, Davenport's projection system still thinks the bat is basically league average, giving him a 50th percentile projection of a .255 EqA.
Sogard's 2011 had him spending the first half of the year in AAA before being called up on July 15th, replacing Chris Carter on the roster, but replacing Adam Rosales in the hearts of minds of A's fans. (Rosales, who hadn't been off the DL for very long, went down to Sacramento the next day for Jerry Blevins.)
Sogard drew starts at the three hard infield positions and seemed like a perfectly adequate player, if perhaps a bit underwhelming on defense at shortstop. The A's, with some justice, appear to believe in Cliff Pennington's defense at short. Were it not so, you might see the two in open competition for the starting job given the approximate equivalence of their bats. Sogard probably cannot displace Scott Sizemore at third, who brings a little more pop, or Jemile Weeks at second, who has legitimate potential to be a well-above-average (if perhaps overrated by those who like singles better than walks) second baseman and a fan favorite to boot. This leaves him battling Adam Rosales for utility time, with Rosales having the fuzzy feelings of a good 2010 season while Sogard brings ... well, I'm not sure. Funny glasses, I guess. Both players have options remaining, so the A's can pick and choose to their hearts' content without worrying about losing one or the other.
As usual with players at this stage of the retrospective game, even if Oakland were planning on contending in 2012, the choice between Sogard and his competition wouldn't make or break the season. You'd like to squeeze out every win you can and not have an actively bad player in the role, but neither guy is that. Either will be fine.