2011 Retrospective #16: Graham Godfrey
By Jason Wojciechowski on January 21, 2012 at 6:20 PM
Graham Godfrey was a prospect once upon a time despite being drafted in the 34th round by the Blue Jays -- he was a JC transfer to an NCAA school and presumably had a strong commitment to returning for his junior year, because it took $200,000 for Toronto to sign him. It didn't take long for them to send him off to a new team, though, trading him (along with Kristian Bell (not that one)) to the A's in the winter of '07 for Marco Scutaro.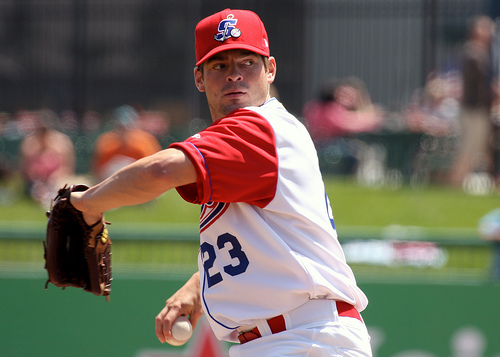 Image by Chris Lockard
Godfrey had pitched at Lansing in 2007, throwing 110 innings as a starter with an underwhelming strikeout rate (6 per nine) but a solid walk rate (under three). He's kicked the strikeout rate up a notch in the A's system (typically finishing the season in the mid-sevens) while still generally keeping the walks and homers under control. He had a bit of a freakish season by the old standard numbers in Sacramento last year, going 14-3 with a 2.68 ERA, but his component stats, while nice, don't blow you away the same way.
His two Baseball America writeups, when he fit into the middle of the Jays' system before 2007 and the back end of Oakland's in 2008, said that he had a low-90s fastball, a changeup that improved a lot from '06 to '07, and a solid slider.
A look at Godfrey's PITCHf/x data reveals a pitch that Gameday classifies as a cutter, two different breaking pitches, and a change-up. The fastball velocity is basically average, coming in around 91, and the slider and curve bring average horizontal movement with below-average drop. The whiff rates on all his pitches are below average, and his fastball seems to work up in the zone, which doesn't strike me as a good combination.
Godfrey's decent results (3.96 ERA, 4.30 FIP) come from keeping the walks to a minimum, as he allowed just five (plus one hit batter) to the 112 batters he faced. He rode the I-95 shuttle in 2011, as he was called up on three separate occasions: he replaced Bobby Cramer on June 10th (and starting on the 10th, 17th, and 23rd of that month) and was sent back down in early July after Rich Harden and Brandon McCarthy made their returns; he was called up to make a start on August 27th, and sent back down two days later; and he returned to the team, making one start, after Sacramento's season ended.
Godfrey might have a shot at the rotation in 2012 as a filler pitcher if the A's feel Brad Peacock or Jarrod Parker aren't ready. Otherwise, he'll presumably battle for a bullpen spot with Ryan Cook, Jerry Blevins, Neil Wagner, Jordan Norberto, et al. There isn't a lot of pitching depth on the 40-man roster to start the season if Dallas Braden isn't ready, so, depending on how Oakland feels about Tyson Ross, any injury or scuffles might see Godfrey getting starting nods in April and May. With a solid defense (as long as Jonny Gomes is on the bench) and the Coliseum behind him, this shouldn't result in too many disasters.