2011 A's Retrospective #17: Andy LaRoche
By Jason Wojciechowski on January 22, 2012 at 11:22 PM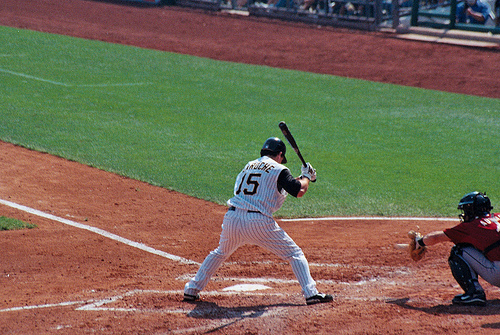 Image by Matt Bandi
As I mentioned previously, Andy LaRoche is the last in the series of A's utility men, coincidentally, since Adam Rosales, Eric Sogard, and Andy LaRoche lined up one after the next in a list of team members by PAs amassed.
LaRoche was actually a sort of supersub for five weeks from April 7th to May 15th, starting 19 of the team's 35 games in that span and playing every infield position (though, to the A's credit, he only started at first once, an April 13th win over the White Sox). Come the Ides of May, however, LaRoche was hitting .239/.311/.313, so he was glued to the bench for a week, managing just two plate appearances, until he was called into duty from the 22nd to the 27th by a Kevin Kouzmanoff groin injury. He didn't do much better with the bat and found himself designated for assignment on June 5th and outrighted on June 8th.
Kevin Kouzmanoff was himself optioned on June 6th, with the A's recalling Scott Sizemore to take his place as the new third baseman, but Sizemore seized his opportunity and neither Kouzmanoff nor LaRoche sniffed the majors in Oakland the rest of the year.
LaRoche wound up with just a .219 TAv in 104 plate appearances, squarely and sadly in line with his career numbers. He was a big-time prospect once upon a time, including two top-20 rankings by Baseball America, before 2006 and 2007. He knocked the snot out of the ball in the minors while playing third base, but a 252-PA trial in 2008 turned out too ugly to type, and a full season at third base for the Pirates in 2009, while nothing to be ashamed of, came out basically league average. 2010 brought more ugliness, and the main positive to take away from 2011 for LaRoche is that he stood around at shortstop for forty-two innings, something he'd never done before as a professional at any level, and looked better than Adam Rosales at the spot, at least to my untrained-and-prone-to-overjudging-errors eyes.
LaRoche is in Cleveland now, where he's not on the 40-man roster. As a 28-year-old utility man who couldn't even stick in the A's third-base vacuum of 2011, his career might be effectively over. Minor-league contracts, NRIs, an appearance in the majors here or there is probably all anyone should expect from him. To the extent anyone remembers who he is 15 years from now, it'll probably come as something of a surprise that he got into 40 games with the A's in 2011.