Roster Review: Brandon Moss
By Jason Wojciechowski on January 18, 2014 at 1:54 PM
Playing as I start this: Periphery, "Zero"
---
I link Brandon Moss and Sean Doolittle in my head, even without considering certain visual similarities:
Alternatively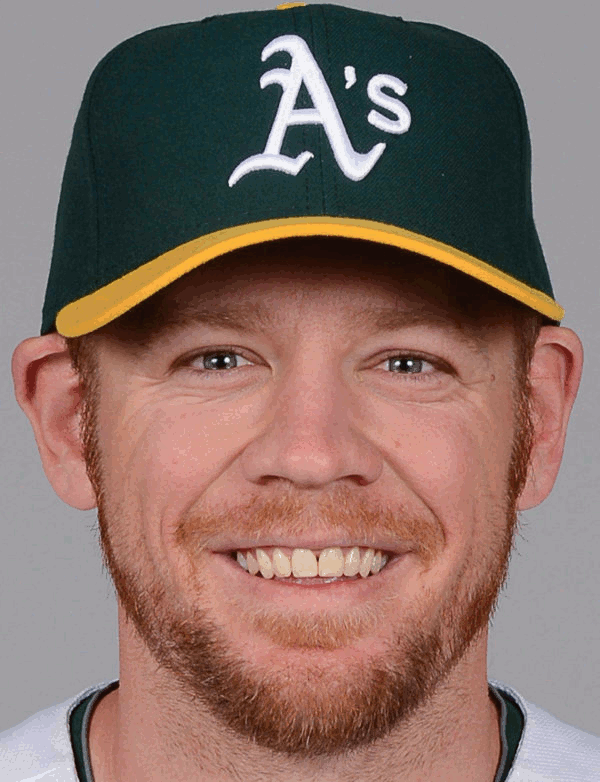 I'm not sorry.
If you're still reading, here's what I meant: both make baseball look easy in a certain way. Doolittle, who was a two-way player in college but exclusively a hitter in the minor leagues, became a big-league shut-down reliever by throwing a bunch of fastballs real hard in the strike zone. Slider? Eh. Changeup? Eh. Just control your fastball and throw it hard and you're good to go.
Moss, similarly, gives the impression that what's turned him into a well-above-average first baseman is swinging real hard. Among major-league first basemen in 2013, Moss finished third in True Average, behind only Chris Davis and Joey Votto. That's with no plate-appearance minimums, too -- Efren Navarro reached base three times in six trips and Moss beat him in TAv. Moss outhit Paul Goldschmidt, though narrowly, and believing that requires you to believe in the park factors applied. He outhit Edwin Encarnacion, less narrowly. He outhit Freddie Freeman and Prince Fielder and Allen Craig and Mike Napoli and Adrian Gonzalez.
Now, Moss doesn't play the first base that Votto and Goldschmidt and Freeman and Napoli do. But the more important issue is that Moss only had 505 PA last year because he does not play against lefties. On the other hand:
| Batter | TAv vs. RHP |
| --- | --- |
| Chris Davis | .404 |
| David Ortiz | .375 |
| Shin-soo Choo | .353 |
| Joey Votto | .347 |
| Brandon Moss | .344 |
| Freddie Freeman | .342 |
| Robinson Cano | .341 |
| Bryce Harper | .332 |
| Adam Lind | .326 |
So Moss is right there with some of the big boys. This time imposing a minimum of 150 plate appearances, Moss finished ninth in baseball in TAv against righties. His overall numbers are helped by not hitting against lefties, but even if lefties were banned, Moss would be a star-level hitter.
(The potentially interesting "What if you took Sean Doolittle who just throws real hard and matched him up against Brandon Moss who just throws real hard" question is thus made easy, by the way, by Doolittle's handedness. Moss wouldn't touch him.)
The swing-real-hard/throw-real-hard narrative that I've constructed of course oversimplifies, though maybe more on Doolittle's end than Moss's. Moss sees more pitches out of the strike zone than anybody but Prince Fielder, Freddie Freeman, Josh Hamilton, and Pablo Sandoval for the predictable reasons: his swing rate is in the top quartile of baseball, as is his chase rate, and when he makes contact, he hits more fly balls than anybody in the game, and it's not close:
| Rank | Player | Flies |
| --- | --- | --- |
| 1 | Brandon Moss | 52.1% |
| 2 | Chris Davis | 47.2% |
| 3 | Dan Uggla | 46.8% |
| 4 | Justin Smoak | 46.7% |
| 5 | Mike Moustakas | 45.2% |
And when he makes contact, the ball flies:
| Stat | Rank among qualifiers |
| --- | --- |
| Slugging on contact | 5th |
| Homers per air-ball | 9th |
Given that Moss already sees as few pitches in the strike zone as anybody, one wonders whether there's any adjustment left to make. It's not like his aggressiveness (see the at-a-glance box on his Brooks Baseball player page for a taste of that) is an unknown at this point. He's got 801 regular-season plate appearances plus 39 in the playoffs (where, it's worth noting, he hasn't hit at all, though it's also worth noting that it's 39 plate appearances and I am very confident that I could find a 39-PA stretch in 2013 where he hit even worse than the .469 playoff OPS he has posted) plus however many in spring training plus 224 in the minor leagues in 2012. The league has a book on Moss. And yet he still slugged .522 while playing half his games in Oakland.
I suppose it's possible that pitchers could throw him even fewer fastballs than they do. Moss's percentage of fastballs seen is just below the league average even though he has "an exceptionally aggressive approach at the plate" against offspeed stuff and "a poor eye" against breaking pitches (by Brooks Baseball's methods). But check out his pitches seen in 2013: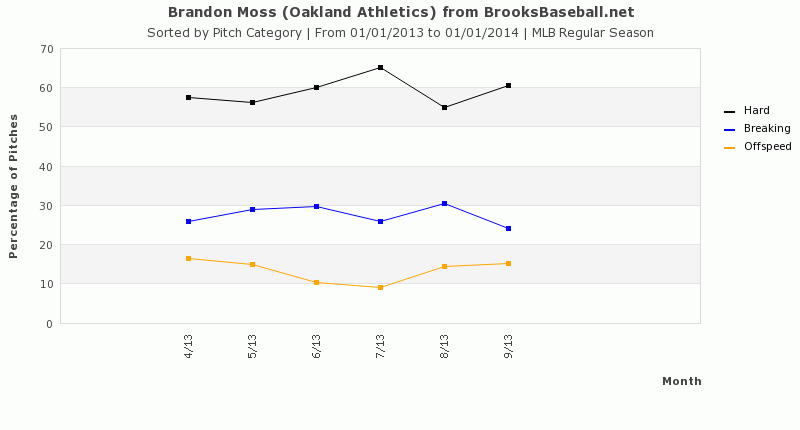 Things can change over the offseason as teams consolidate scouting reports and game-plans, I suppose, but it's entirely possible also that Moss is simply well-adapted to a game that features a lot of heavy fastball pitchers who don't have confidence in their off-speed and breaking pitches. Bob Tewksbury might well give Moss fits, but Bob Tewksbury works for the union now. And you do need to have confidence in your off-speed pitches, because when Moss puts soft stuff in play, his slugging percentage is the second best in the league, behind only Chris Davis. It's another way of saying that Moss is an all-or-nothing hitter: He's going to chase your curves and changes and sliders out of the zone and he's going to whiff and he can't really tell what it is out of the hand, but if you hang it, golly, get that ball a Dramamine because it's going on a long flight.
Not only do you need pitchers who have quality secondary stuff to beat Moss, you need to beware of the game theory and/or educational aspects of feeding him a diet of junk -- if he stops gearing up for the fastball against certain pitchers, maybe he'll become effective against the slow stuff; or maybe he just needs reps against major-league sliders, such that the current mix is the best that can be done in terms of getting him out while not letting him figure them out.
That's guess-work. Chili Davis and/or Moss himself could tell you how they feel about Moss's chances of hitting well if pitchers adjust by throwing more and more breaking balls. But they won't tell you how they feel because that's a trade secret.
I don't see any reason why Moss's role would change in 2014. He can platoon with Nate Freiman and be available to play left or right or DH as needed, depending on injuries, though I suspect that given Craig Gentry's defense, it's going to take two outfield problems for Moss to get time out there. Gentry batting against righties is probably a hit you're fine taking to get his glove into the field if Reddick gets hurt.
---
Playing as I finish: Marijuana Deathsquads, "Goldan"