Game 59, A's 8, Red Sox 9 (14 innings) (27-32)
By Jason Wojciechowski on June 6, 2011 at 12:35 AM
Fuck baseball. Go look at the photo I used on the post for Game 58. That's me right now. (Why right now? Because I just finished watching the game and had managed to avoid spoilers. I started watching it on Saturday and then continued Sunday morning, but between the length of the game and MLB.tv's continued utter assness, it took until now for me to carry the thing all the way through.)
In the end, here's how I'm going to comfort myself about a loss in 14 innings after a four-run ninth-inning comeback, a run scored in the top of the 11th, and putting multiple men on base in extras against Alfredo Aceves: the A's should never have been in this in the first place. In the bottom of the ninth, with Jonathan Papelbon pitching, after he was pissy with the home plate umpire but before things blew up into full-scale feud, he got a one-out ground ball to second that looked for all the world like a 4-6-3 double play. Coco Crisp runs well, but the ball was hit to Dustin Pedroia's right and not terribly softly, so he could field, flip to Jed Lowrie, and have a relay to first in plenty of time to get the speedy Crisp. Instead, the ball went right through his wickets into center field. The A's were down 7-4 instead of 7-3 and they were off to the races.
The inning eventually saw the ejections of both Jason Varitek and Papelbon (in separate but obviously related incidents). Papelbon in particular hilariously tried to claim that he wasn't staring in and talking to the umpire, he was talking to his catcher, Jarrod Saltalamacchia! Sure, Paps, that's exactly what you've been doing the entire inning.
For what it's worth, here, from Brooks Baseball, are the pitch locations for the Papelbon-Daric Barton at-bat that got the Red Sox closer angry in the first place: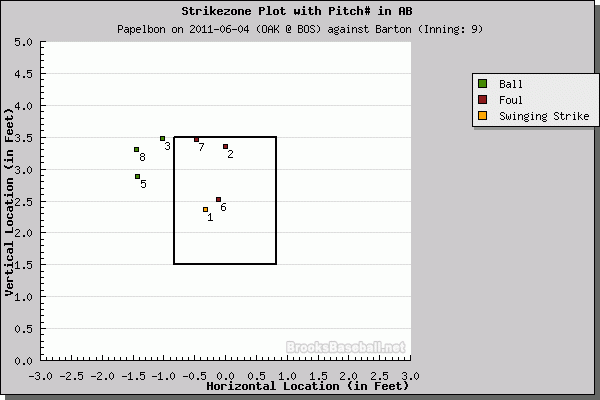 The third pitch is the one in question. For context, here is the plot of all called balls and strikes to left-handed hitters by home-plate umpire Tony Randazzo in the game: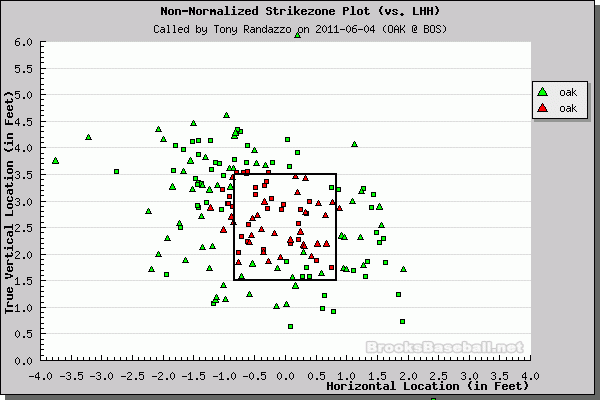 A foot from the center of the plate and three-and-a-half feet from the ground seems like a fair ball call in this game. There are strikes closer to the plate and strikes lower (as well as one poor call three inches farther outside, but it's six inches lower), but in that corner, Randazzo did not put up the hand. It was a fairly close pitch, to be sure, but getting as worked up as Varitek and Papelbon did seems pretty silly.
Anyway, the:
Box & Notes
| Player | PA | TOB | wRAA |
| --- | --- | --- | --- |
| DeJesus (RF) | 4 | 1 | -.464 |
| --Laroche (3B) | 0 | 0 | --- |
| --Jackson (PH-3B) | 3 | 2 | .960 |
| Sweeney (CF-RF) | 7 | 3 | .192 |
| Willingham (LF) | 7 | 3 | .344 |
| Matsui (DH) | 7 | 1 | -1.080 |
| --Suzuki (PR) | 0 | 0 | --- |
| Ellis (2B) | 7 | 2 | -.368 |
| Barton (1B) | 7 | 4 | .752 |
| Powell (C) | 7 | 1 | -1.080 |
| Kouzmanoff (3B) | 2 | 0 | -.512 |
| --Crisp (PH-CF) | 4 | 1 | -.312 |
| Pennington (SS) | 6 | 3 | .752 |
As poor as David DeJesus's game looks by wRAA, multiply that by something, because two of his three outs were of the double play variety. Further, he didn't even really earn his way on base, reaching via the hit-by-pitch instead. Mercifully, he was removed in a double-switch in the seventh.

That's right, Bobo Bob Geren pulled a double-switch! Coco Crisp pinch-hit for Kevin Kouzmanoff in the top of the seventh and stayed in the game, playing center, pushing Ryan Sweeney to right. Adam LaRoche came into the game in DeJesus's spot in the order (playing third base in Kouzmanoff's stead) after DeJesus made the final out of the inning.

Tommy Hottovy, by the way, has faced two batters in his major-league career. Both of them were David DeJesus.

Jackson lived up to Bob Geren's faith in him, making the one play that came his way at third base while knocking two hard-hit balls, including the game-tying single in the ninth while batting as a pinch-hitter.

Jackson did try to take out Jarrod Saltalamacchia at the plate in the eleventh, a play I'm not fond of. He was running on a contact play when Josh Willingham hit just a weak grounder to short, and thus was out by a country mile. Instead of conceding the out, he tried to put a hurtin' on the Red Sox catcher. To Saltalamacchia's credit (and also because he had the ball in plenty of time to see the hit coming), he applied the tag to Jackson and sort of Ole'd him, spinning away as Jackson went barreling past.

The most notable thing Ryan Sweeney did, despite playing all fourteen innings and batting seven times, was read a Josh Willingham fly off the Green Monster well enough that he was able to score from second in the sixth inning. The fly was high, not especially deep, and it wasn't clear whether the ball would come down in Crawford's glove shy of the wall. Crawford, in fact, may have been trying to deke the runners by looking like he might have a play when he knew that it would actually bounce off the Monster. Sweeney didn't immediately run, but he did read the ball early enough to score without a throw. It's a little thing (albeit not one that we can say "it doesn't show up in the box score" because it's, in a sort of aggregate sense, precisely the kind of thing that EqBRR measures), but on a team starved for runs, pushing across those extra tallies that other players might not can have outsize effects.

Josh Willingham's game wasn't as good as I thought it was -- I had an impression of him with two different doubles, but it turns out he just hit the one discussed above in the Ryan Sweeney note along with a pair of walks.

Unfortunately, one of his outs came in the top of the ninth, game tied at seven, with Ryan Sweeney on first and Conor Jackson at third, Sweeney having just greeted Bobby Jenks with a single down the left-field line. A three-pitch strikeout later and the game was suddenly in the slumping Hideki Matsui's hands. He giveth and he taketh away does our Compliant Pork.
A Hideki Matsui Compendium: first-pitch grounder, first pitch shallow fly, five-pitch swinging strikeout, 2-0 double-play ball to short, check-swing strikeout, single, chopper to first that should've been a double play.

The check-swing whiff was very nearly an awesome play, and likely would have worked out better for the A's had Matsui taken a full swing at the ball. The pitch was a Bobby Jenks slider in the dirt that got away from Saltalamacchia and rolled pretty far back and toward the third base side. Matsui, however, had checked his swing and waited to run until he realized that the home-plate umpire ruled that he had gone around. Even with this delay, he wasn't out by that much at first because of how far away the ball was from the plate (and from first base). A full swing might have given Matsui just enough of a head start to beat the throw to first and allow Conor Jackson's touch of home plate to count.

FYI, here's what I wrote in my notes about the strikeout: "On replay, his face as he starts to run to first is hilarious." It really was.

Mark Ellis struggled early, but had a couple of key hits late, starting the ninth-inning rally with a lucky bloop single to center and starting a potential rally in the tenth with a leadoff single on a hard grounder. Unfortunately he was erased on a bunt play that nearly was lucky in favor of the A's. As will be discussed in the Daric Barton note below, however, karma prevented the situation from working out.

Daric Barton did what he does, hitting weak singles (one an infielder off the pitcher's glove) and walking. Unfortunately, he also bunted once. With Mark Ellis, as mentioned above, having reached first on a leadoff single in the tenth, Barton decided (or Geren decided for him, but you have to wonder about Barton doing this on his own, as he's been known to do) to give himself up. His bunt, however, was a mildly poppy job out to the left side of the mound. Fortunately for the A's, it got past all the charging Red Sox infielders, including Jenks himself. Unfortunately for the A's, Mark Ellis wasn't sure this would happen, and had to hold up to make sure he didn't get doubled off. Thus, Jenks was able to scramble back, pick up the ball, and throw Ellis out at second.

As alluded to above, I call this karma for having your first baseman and best on-base-percentage guy (not this year, but in terms of likely true talent) sac bunt a man from first to second with nobody out.

Landon Powell clearly idolizes Hideki Matsui, what with his identical one-for-seven-with-a-single day. He did manage to strike out four times, though, so that's awesome.

That's right, Kevin Kouzmanoff started a 14-inning game and managed just two plate appearances.

Batters knock pitchers out of the box with some frequency (Landon Powell's single immediately preceded Terry Francona taking the ball from Josh Beckett, for instance), but it's not so common to knock a catcher out. That's, in a sense, what Cliff Pennington did to Jason Varitek, though, as it was during Pennington's ninth-inning double (cutting the Sox lead to 7-5) that Varitek decided to get in Tony Randazzo's face and get himself tossed for his troubles. Nice job, Pennington?

Alfredo Aceves gave up what should have been the game-winning run in the 11th, but then shut the A's down in the 12th, 13th, and 14th. Oakland did get two runners on in the last frame, but likely would not have had Adrian Gonzalez still been at first base instead of Drew Sutton -- Sutton double-clutched a throw to second that might have started a double-play on Matsui, giving the A's an extra out to play with.
| Pitcher | Outs/TBF | Whf/Str/Pit | GB/BIP | K | UBB | HR |
| --- | --- | --- | --- | --- | --- | --- |
| Cahill | 21/28 | 9/61/101 | 9/19 | 8 | 1 | 1 |
| Ziegler | 2/3 | 1/13/17 | 1/2 | 1 | 0 | 0 |
| Breslow | 0/2 | 1/7/10 | 1/2 | 0 | 0 | 0 |
| De Los Santos | 1/1 | 2/3/5 | 0/0 | 1 | 0 | 0 |
| Fuentes | 6/8 | 3/23/33 | 3/7 | 1 | 0 | 0 |
| Bailey | 3/6 | 7/14/20 | 0/2 | 3 | 0 | 0 |
| Devine | 3/4 | 2/16/25 | 0/1 | 1 | 1 | 0 |
| Wuertz | 3/5 | 0/10/18 | 1/3 | 1 | 0 | 0 |
| Moscoso | 2/5 | 1/10/15 | 0/4 | 0 | 0 | 0 |
Cahill getting eight strikeouts in 28 batters with nine swing-and-misses is pretty classic. He's not Greg Maddux by any stretch, but when his two-seam fastball on the inside corner to lefties is working, it's Madduxian.

Unfortunately, his low-velocity offerings that are occasionally knocked by some big bopper for a homer are also Madduxian, which is what happened on a changeup (I think) to Adrian Gonzalez in the first. It wasn't even a horrible pitch, but it also wasn't a good pitch, and Gonzalez isn't the hitter to not make perfect pitches to.

Cahill did settle down after Kevin Youkilis doubled to follow up Gonzalez's homer, facing the minimum over the next ten hitters, allowing one walk (on a pitch I thought was a strike, for what it's worth), but erasing him on a double play.

Speed and singles and weird balls in play were the death of Cahill over the fifth and sixth innings, though. In the former, Carl Crawford hit a low line-drive single before stealing second, moving to third on a fly to DeJesus in right and then scoring on a JD Drew single. Put it this way: if that's David Ortiz starting the inning with a hit, no run scores.

In the latter frame, another fast player, Jacoby Ellsbury, hit a liner to right for a single, stole on the next batter, and then scored on a single. Kevin Youkilis then hit a ball down the left-field line that hit that stupid garage door in left (my notes comment: "build a real goddamn baseball field, Boston"), bouncing around enough to allow Dustin Pedroia to score from first without a throw. Another Carl Crawford single to plate Youkilis capped the scoring against Cahill.

It was, in short, not a great game, and the ground balls tell the story again -- the Red Sox didn't loft the ball, but they did drive it with fair frequency, and that was enough.

Brad Ziegler's three batters went exactly as you had to assume they would: with Pedroia-Gonzalez-Youkilis due up before Ortiz (left), Crawford (left), Lowrie (switch), Drew (left), Saltalamacchia (switch), and Ellsbury (left), Ziegler was going to face three batters no matter what. If he got all three out, good job. If not, a lefty was going to come into the game beginning with Ortiz. And indeed, as you'd also expect, Ziegler did not get the lefty out, yielding a line drive single to Adrian Gonzalez, albeit on the eleventh pitch of the at-bat after the first baseman fouled off a number of tough pitches.

Unfortunately, Craig Breslow couldn't hold up his end of the bargain, allowing a double to David Ortiz and a single to Carl Crawford, resulting in a four-run Red Sox lead.

But hey, check out Fautino (The Mormon) De Los Santos! He made his major league debut and he looked awfully impressive, if a bit wild. His two balls were both fastballs very high, but he got Lowrie to whiff on two fastballs, one at the letters and one at the knees on the inside corner, which is a pretty good way to start your career.

I know Andrew Bailey blew the game for the A's, but look at the pitch-count portion of the box score above. Seven whiffs in twenty pitches. Seven! The cutter in was filthy, the fastball away was gorgeous, and ... well, the slider wasn't great. He hung one to Saltalamacchia, allowing a double off the Monster that led to Ellsbury's game-tying double down the right-field line, also on a hanger, but this one on a cutter that dropped but didn't have enough horizontal movement to tie the hitter up.

The fragility of the A's bullpen may have showed in this game. Brian Fuentes threw two innings and did so effectively, but Andrew Bailey wasn't given a second inning to try to make up for his first, as this was just his third appearance in the majors on his way back from injury. Joey Devine, too, isn't someone I imagine Bob Geren is comfortable leaning on as heavily as he does players like Fuentes, Breslow, or Balfour.

On the other hand, Devine did throw 25 pitches in his single inning here, so even a typical reliever might have been deemed finished after that type of performance. (The main culprit, by the way, aside from a four-pitch walk to Youkilis, was an eleven-pitch at-bat against Carl Crawford. It did end with Crawford whiffing on a fastball, though.)

If Bob Geren had Andrew Bailey available for two innings and could further rely on Devine for two frames, and even further had Grant Balfour in the bullpen instead of away with his family, perhaps Guillermo Moscoso's fly-ball ways are never given a chance to haunt him. Instead, the bullpen was worn down the nub, and the nub came in and let Carl Crawford and J.D. Drew beat him.
Miscellaneous
Glen and Ray spent some time talking about the long gap between Red Sox championships and how some people lived whole lives and died without seeing a World Series win in Boston. As they were talking about this, the director called a series of shots of old people in the stands. That's not nice! Leave the old folks alone!

The Red Sox fans were not so much on point in this game, doing the whole "sarcastic cheer for a called strike" thing after Papelbon bitched about the ball call discussed well above and also cheering excitedly for multiply weak fly balls and at least one very weak "line drive" out to Mark Ellis at second. Everyone makes fun of every other ballpark's fans for doing this stuff, but if we're honest, I doubt any particular fan-base is any better than any other. Weekend day games likely only exacerbate these tendencies anyway.

My final note, after J.D. Drew's game-winning hit, just for symmetry:
OAK 8 BOS 9, fuck baseball