Mark Ellis traded to the Rockies
By Jason Wojciechowski on June 30, 2011 at 10:00 PM
I don't have much analysis of this trade, in part because the A's are getting back a 30th round draft pick minor-league reliever who nobody knows anything about, in part because there's a player to be named later who will likely be the key to the deal, and in part because it's a trade of a backup infielder past his prime to a team that desperately needs infielders. It's a minor deal, no more notable for the talent than Purcey-Sizemore is.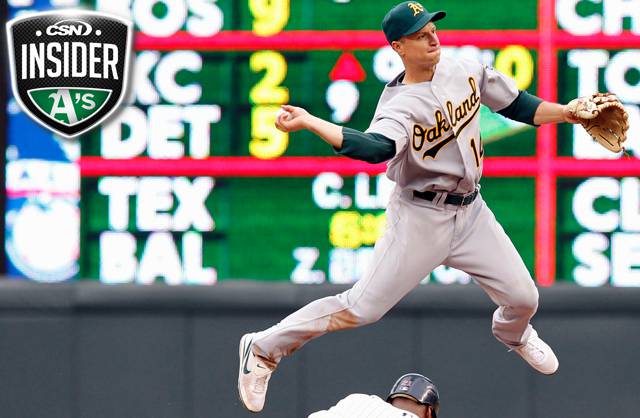 The difference between this deal and that one should not be understated, though, because emotions do matter, at the very least for the fans who watch the game, and Mark Ellis, the A's longest-tenured player, having been on the squad since the glory days of 2002 and having been a fan-favorite for much of that time, stirs up a lot of emotions, enough so that it's worth reflecting on the man's career with the A's.
First, let's acknowledge that there was a time when Ellis was really a very good all-around player. In 2005, he batted 316/384/477, and was worth nine runs afield per Total Zone, adding up to a 4.6 rWAR. Four point six! For little Mark Ellis, generously listed at 5'10" (he's really probably 5'7" or 5'8" if I had to guess), the pride of Rapid City, South Dakota. Hell, the pride of the whole state, since only 36 major leaguers hail from the place, and Ellis has more homers than all of them but Jason Kubel, more steals than all but Dave Collins (though granted that's by a count of 395 to 62, a slightly bigger gap than in homers), and more games played than all but Collins as well. (I wouldn't bet against Ellis becoming a pretty good manager, too, if Terry Francona and Sparky Anderson, the only two managers to ever come out of South Dakota, are any indication.)
Anyway, Ellis repeated that 4.6 WAR figure in 2007, with his bat declining but his glove shooting all the way up to +17 (though he was still second to Aaron Hill's +22 mark; Placido Polanco's exactly-average +0 figure won the Gold Glove, of course).
What Ellis did at the plate was always secondary, but he did hold his own. Ellis's wRC+, which is read like OPS+ but better describes a player's offensive contributions, for his career stands at 96, just a smidge below average, and his lowest mark was an 80 back in 2003.
None of this really matters, though, because the enduring image of Ellis is of a wizard at second base, routinely making exemplary plays look easy, being a model for how a small child should be taught to play the position, seemingly always in the right place at the right time, making throws with a quick release and perfect accuracy that mitigated his lack of arm strength, a problem that might trace back to the devastating shoulder injury suffered early in his A's career, and doing it all with no hair and a constant grimace that somehow made him all the more enjoyable to watch. He's gritty, not in the way of the nearly talentless David Eckstein, not in the way of the "I gots dirt on my shirt!" Pete Rose, but in the way of a ranchhand putting in fenceposts, doing a hard physical job but always taking care to do it well, taking pride in his work but never deigning to consider any aspect of it frivolous.
In the end, Ellis is certainly in my personal A's pantheon, a group that includes a mix of terrific players that everyone knew were great, mediocre bench players I just happened to really love, and everything in between. The only question is where he lands on the list, so let me attempt an ordering, position players only for now:
Jack Cust
Ben Grieve
Jeremy Giambi
Mark McGwire
Mark Ellis
Eric Chavez
Billy McMillon
Matt Stairs
Adam Piatt
Erubiel Durazo
Daric Barton
Milton Bradley
Travis Buck
Geronimo Berroa
Nick Swisher
Sal Fasano
Terry Steinbach
Harold Baines
Mike Bordick
John Jaha
Rickey Henderson
Ryan Sweeney
Olmedo Saenz
Jorge Velandia
Ryan Christenson
(I promise, by the way, that I did not just choose 25. I chose guys I loved, from memory and from scanning through rosters going back to 1989, and it just so happens that there were 25 of them.)