The Trevor Cahill trade
By Jason Wojciechowski on December 12, 2011 at 8:35 PM
I'm getting to this late because of a mini-vacation to Vegas, but here we go anyway.
Trevor Cahill is an Arizona Diamondback. Jarrod Parker and Collin Cowgill, players you might well have heard of, are Oakland Athletics. Craig Breslow was also sent to Arizona, and minor-league reliever Ryan Cook (who you may have heard of, but I had not) came to the A's.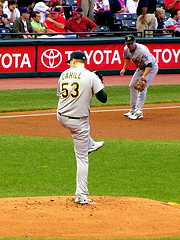 Image by Natalie Litz
Without getting too in-depth (delving into Baseball America books and whatnot), I'm perfectly happy with the deal, given the assumption that Trevor Cahill had to be traded at all. Dumping a 24-year-old starting pitcher who's shown durability and solid success in the majors for three seasons as a rebuilding move certainly seems odd. The thing is, though, that teams don't trade players; they trade contracts. Cahill's contract isn't exactly expensive, especially in the near term ($3.5, 5.5, 7.7, 12, 13 (option), 13.5 (option) million for the next six years), but Jarrod Parker has a grand total of ten days of major-league service time, so he's effectively three seasons behind Cahill in terms of cost -- he'll be free (league-minimum salary) for the next three seasons (assuming he's in the majors in 2012 -- he still hasn't ever pitched in AAA, so the A's could leave him in Sacramento for a while if they want) and start to get into Cahill territory only in 2015, at which point, from the latest reports, the A's might well be in a new stadium in San Jose and completely willing, happy even, to pay a top-notch young starter $5 million for $10-15 million worth of services, rather than insisting on finding a $500k solution for that same performance.
Obviously, the key is whether Parker can be counted on for the same performance as Cahill. As a hard-throwing high-strikeout pitcher with ground-ball tendencies, one has to like Parker's odds. The Tommy John surgery that caused him to lose much of 2009 and all of 2010 is somewhat worrisome, but I'm happy that the A's get the post-surgery Parker, with a strong ligament in his elbow, and, in particular, one who threw over 135 innings in 2011, thus hopefully putting him in the "fully recovered" category for 2012. Elbow surgery simply isn't as alarming as it once was, so I'm not too worked up about it. Clearly, if Parker were a lock to put up the same performance in the majors in 2012, the Diamondbacks would have no interest, so that's not a reasonable expectation. We deal in probabilities, though, and as a basic thumbs-up / thumbs-down matter, I think the odds are good that Parker will be a valuable contributor to a major-league team quite soon.
Collin Cowgill is a small outfielder who's spent his minor-league career getting on base (.383 OBP) and hitting doubles (.490 slugging despite just 47 homers in 1619 PAs). He's split his time in the outfield, about 2/3 in center and 1/3 in right, so there may be some question about whether he can handle the tougher defensive position in the majors. The A's presumably think he at least has a shot of doing so, though -- David Forst has said that Cowgill will compete for the starting spot in center. When the competition is whiffing machine Jai Miller, I'd figure that Cowgill has a good shot of being the Opening Day man at the eight-hole barring the acquisition of someone better-suited to the role in a trade of Gio Gonzalez or Andrew Bailey later in the winter.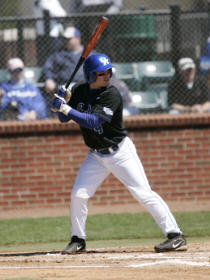 I've heard Ryan Sweeney and Eric Byrnes mentioned as A's comps for Cowgill, but I think the Sweeney comparison is too pessimistic, as Cowgill has hit for power that Sweeney never managed, even in the minors (.405 career SLG in 2146 PAs in the bus leagues). They do share a contact-oriented approach, but Cowgill adds walks, doubles, and steals to his batting average, facets Sweeney never had in his game. Byrnes, by contrast, hit .307/.383/.485 in his minor-league career, a near mirror-image of Cowgill's .299/.383/.490 line. Byrnes also did not hit homers, but did walk and steal bases.
This may sound unencouraging, but Byrnes was an above-average hitter in 1092 plate appearances with Oakland in 2003-04, one who, if you believe in his defense (~+6 by Total Zone, or even just -2 by FRAA), was a three-WAR(P) player. (If you don't believe in his defense (-7 in 2003 by FRAA), then he's actually a below-average player.) Numbers aren't all there is, unfortunately -- Byrnes had, despite his balls-out approach, had a more typical athlete's frame than Cowgill does -- the now-analyst is listed at 6'2" and 200 pounds, while Cowgill comes in five inches shorter. How does such a small hitter generate doubles power consistently? Does his approach in the minors allow him to tee off on lesser pitchers but translate differently to the majors than we'd expect purely from the statistics? Not even the scouts know the answers to these questions, of course, and all the A's can really do is push the percentages in their favor and stockpile as many "maybe he could!"'s as they can. If Cowgill fails to be a six-year answer in center (and I'm sure he'll get a chance to succeed or fall on his face in 2012), maybe it's Grant Green. If it's not Grant Green, maybe it's Michael Choice. Stockpile, hope, and eventually a coin will land in Oakland's favor.
The relief pitchers are relief pitchers. Craig "Smartest Man in Baseball" Breslow is fine, a solid lefty, but he's arbitration-eligible this season, while Ryan Cook, a once-lightly regarded righty who transitioned from starting to closing in 2011, with the expected increase in strikeout rate from that move, will make the league minimum for as long as the A's care to use him in middle relief. (I hold the possibly overly optimistic view that even when the A's are rolling in Marlins-like cash, this blog's namesake will still be swapping out arb-eligible middle relievers and finding new minimum-salary players to replace them. Why pay two to three times as much for the same performance just because you have the dough?)
We've become used, as A's fans, to these trades. Mark Mulder, Tim Hudson, Dan Haren, Joe Blanton, and Rich Harden are all established (with a "?" in Harden's case) starters who've been dealt in relatively recent years for piles of prospects, some well-regarded who worked out (Haren himself in the Mulder trade), some well-regarded who didn't (Dan Meyer), and plenty who represented wishes and hopes (Josh Donaldson). For now, the haul from this trade looks most like those from the Mulder and Hudson trades, which basically give the poles for how it could work out. Maybe Jarrod Parker never comes fully back from his injury and flames out with more injuries due to changed mechanics. Maybe Collin Cowgill's power doesn't translate and he can't play center. Or maybe Parker is the new Dan Haren and Cowgill is a 2-to-3-win player in center, so that when Michael Choice arrives, Oakland is faced with one of them Good Problems To Have (TM) of trying to find a place for all your good players to play. I'll let you know in five years which this was.