Sean Doolittle activated
By Jason Wojciechowski on May 26, 2015 at 8:25 PM
Finally! Sean Doolittle has come back! To Oakland!
Okay, frankly, he's not the most Maivian player on the A's (that, with all due respect to Josh Reddick, is probably Brett Lawrie), but it's good to have the A's ace reliever back on the squad. In case you've been under a rock, what he's done over the last three seasons:
| ERA | G | SV | IP | H | R | HR | BB | SO | HBP | BF | ERA+ | FIP |
| --- | --- | --- | --- | --- | --- | --- | --- | --- | --- | --- | --- | --- |
| 2.97 | 175 | 25 | 179.0 | 131 | 61 | 12 | 32 | 209 | 2 | 693 | 130 | 2.20 |
He strikes everyone out, never walks anybody, doesn't give up homers, and just generally pitches like an ace reliever. Here, you want a cool list?
That, friends, is a list of all pitchers with at least 100 innings pitched and at most a 2.50 FIP from 2012-14. It is, in other words, a cool list. As I promised.
There are some reasons to worry about Doolittle's return. Specifically, his velocity, which normally goes like this: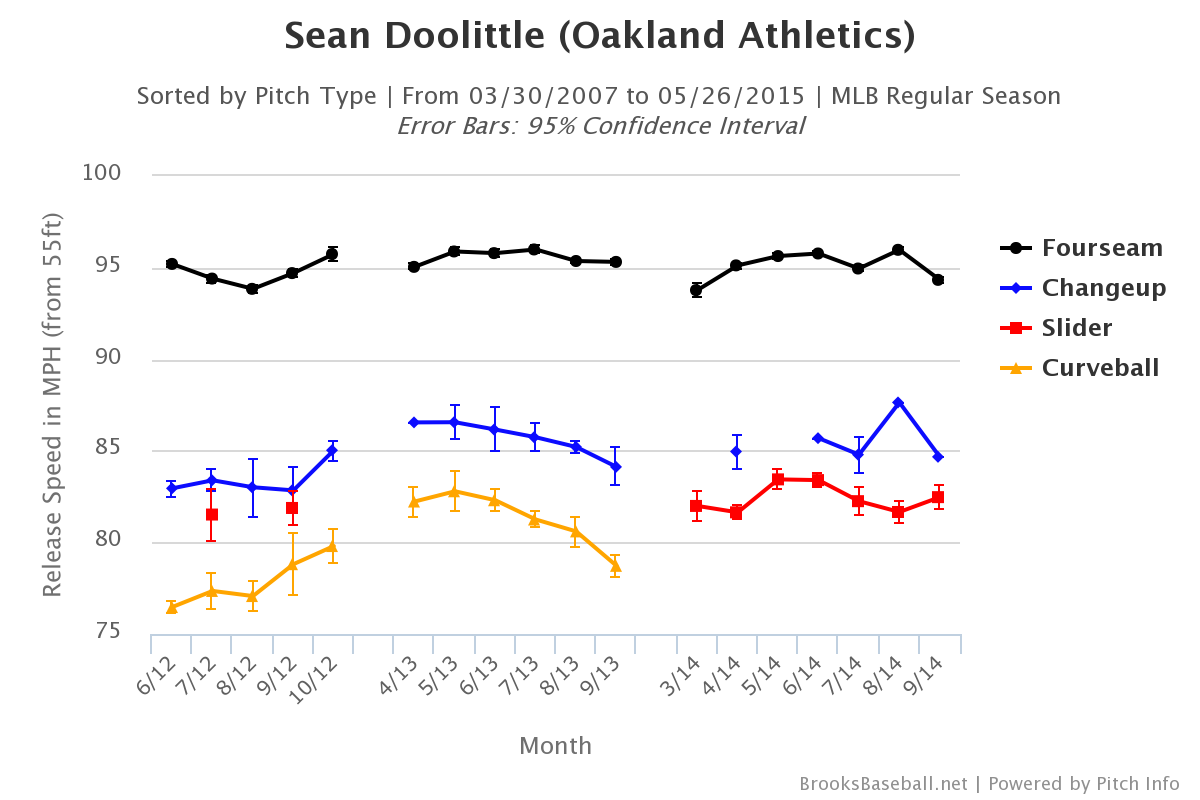 Word on the street is that he's more in the 90 range in his rehab. Everyone loses velocity over time, and you use the tactics at your disposal to make up for it. Not everyone, however, loses 5 mph overnight. Doolittle hasn't sounded worried in his quotes, and thinks the velocity will come with more work; he also believes that his movement and deception are still there. I'm always less optimistic than ... well, than basically anybody, but I certainly hope he's right on all fronts and that he's back to the 95 mph beast we've come to know and love.
---
Angel Castro heads out to Nashville to make room for Doolittle. He threw three innings for the A's in his stint, walking three, striking out three, and giving up one homer. Also five other hits. This all added up to just one run, but that's not a distinguished run of work overall, which isn't surprising given his pedigree and past minor-league work, though it is, of course, a bit sad. He's on the 40-man roster now, so the money he'll get in the minors is a lot better than what he'd get otherwise, and as a human matter, I hope that 40-man roster slot means he gets a few more shots to throw some major-league pitches before it's all over, but we shouldn't expect much. That's baseball, tragically enough.